A strong early childhood education prepares children to be lifelong learners. Through the guidance of their teachers and their own exploration, they are introduced to the wonders of the world. With an age-appropriate curriculum, the children should be introduced to various academic concepts through hands-on, play-based activities that fully engage them.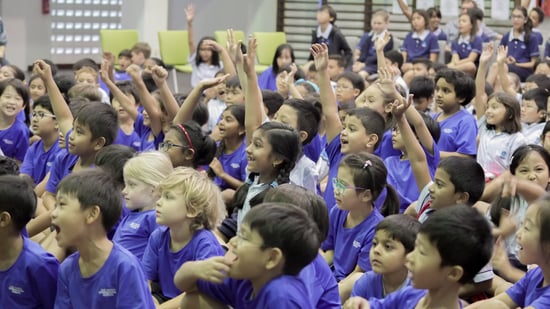 At OWIS, our early childhood curriculum focuses on nurturing the child from the inside-out, including their emotional, physical and cognitive development. Through careful incorporation of play and sensory activities, we help our young ones learn and grow in a loving environment. Here is what a week in one of our classrooms looks like.
HOW WE PREPARE OUR CHILDREN TO BECOME LEADERS THROUGH PLAY
Each morning, our children begin outside with time to laugh and play with friends before coming in to join their teachers and classmates. The lessons begin with interactive phonics activities, helping the children better understand how language and sounds work. Throughout the week, our children explore more phonics-based activities. These carefully balance repetition (to help the children remember the sound) with growth, allowing them to apply what they have learnt.
After phonics, the children have time to engage on a sensory level with educational activities. During the week, they have the chance to explore activities such as painting, playing in a mud kitchen, building with blocks and role playing.
After some time for free play, the teachers bring the children together for a maths lesson. At this age, our main focus is on counting and helping our students understand what numbers are and how they work. Once a concept is introduced in the beginning of the week, our children are able to explore it more, both independently and with guidance.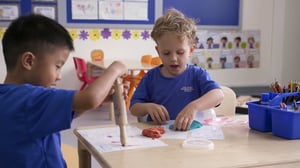 We also have a Programme of Inquiry, a theme that we carry throughout the week. After mathematics, children have time to share and discuss the latest ideas related to the programme, helping them delve deeper into the idea and better understand how it impacts their world.
After inquiry, children explore through play-based learning. They engage in activities that emphasise skills such as fine motor abilities or measuring. Our teachers take this time to do pull-outs with small groups of children to help them practice more phonics and reading, progressing throughout the week based on the child's skill level.
Following lunch, children participate in specialised Mandarin, Music, Arts or PE classes, varying throughout the week so that they have opportunities to experience each class and nurture their skills.
This is followed by more opportunities to explore and discuss the Programme of Inquiry. During the week, the child will explore the concept from a variety of angles.
As we approach the end of the day, the children have more time for free play, allowing them to stretch their legs and engage again with their friends.
The children then help to clean up the classroom and eagerly gather all of their projects that reflect their hard work, proud to show their parents what they accomplished at school that day. They then proceed out to the bus after enjoying another exciting day of learning.
Our early childhood education programme helps children explore concepts in an age-appropriate way, encouraging them to learn and engage with their peers and the world around them. Our carefully constructed curriculum nurtures the mind and body of each student, preparing them for the global, world-class learning they receive through OWIS.
Still have questions about our outstanding early childhood programme? Visit our curricula page by clicking the button below. We look forward in hearing from you.