Core Visible Thinking is an educational approach that has been thoroughly researched and has proven to be incredibly effective when applied in a classroom setting. This approach is essentially a collection of practices and routines that can be adapted to the individual classroom depending on the subject matter being taught and the content being discussed at the time. The goal of Core Visible Thinking is not only to improve the culture of thinking in the classroom and enhance critical thinking skills but also to help students develop a deeper understanding of the content being discussed.
Core Visible Thinking Routines
At One World International School, we believe that our students need to learn more than just facts and statistics. We have developed a culture at our school that, when coupled with our curriculum, allows students to become independent and critical thinkers as well as lifelong learners.
One of the keys to our success is Core Visible Thinking Routines, which are sometimes referred to as VTRs. VTRs are tools that the administrators and educators at OWIS use to help students become more aware of their thinking processes and to improve those processes ultimately.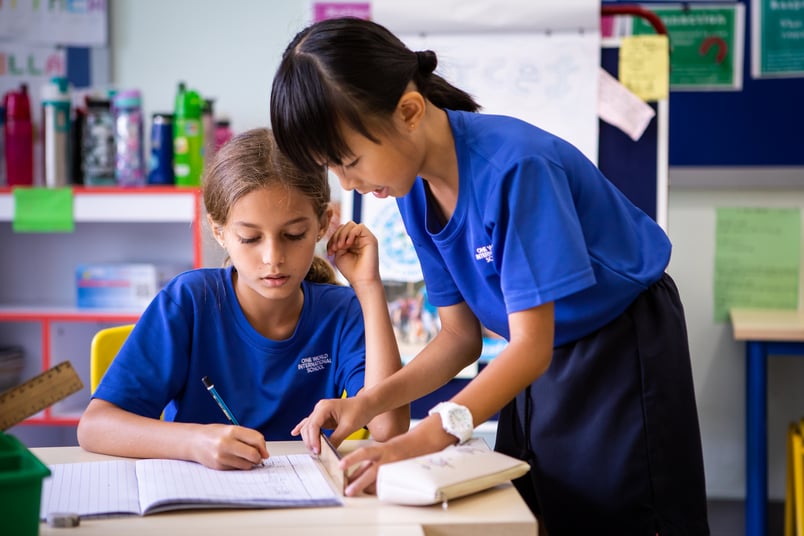 The Core Visible Thinking Routines at OWIS
What Makes You Say That? — This approach requires OWIS students to describe what they know about a particular topic, but then back up that knowledge with evidence.


Think Puzzle Explore — In this activity, students must describe what they think they know about a particular topic. Then, they need to identify the questions that they have about the topic. Finally, they must determine how they can learn more about the topic.


Think Pair Share — This routine requires students to spend a few moments considering the provided topic and then work with another student to come up with ways to learn more about the topic.


Circle of View Points — In this exercise, students come to understand that there can be different viewpoints on a particular topic and then choose a particular viewpoint. They then provide information about the topic from the specific viewpoint they have chosen. Using that same viewpoint, they explore and ask questions about the topic.


I Used to Think — In this routine, teachers should provide students with a current event or topic to consider. They need to discuss what they used to think about that topic, but then provide evidence-based reasoning for their new opinion on it.


See Think Wonder — With this routine, students must consider a visual idea or topic. They need to describe what they see and what they think about it. Then, they need to consider what they are curious about after viewing the image.
We believe that education is a partnership between the student, the school and the parents. With this in mind, we want all members of our community to be aware of the Core Visible Thinking Routines that we have implemented into our curriculum, across all subject areas. This helps parents to become more involved in their child's education, and it allows students to better connect with their parents when discussing the content being learnt in the classroom.
For more information about how OWIS helps students develop critical thinking skills, contact us today to set up a campus tour.