OWIS Nanyang Campus is a source of pride for all of us. We realize much thought is necessary when designing an environment that promotes learning on every level and in a comfortable and secure manner. With that in mind, our campus is designed to future-proof your child's education by enticing him or her to continue learning both in and out of the classroom.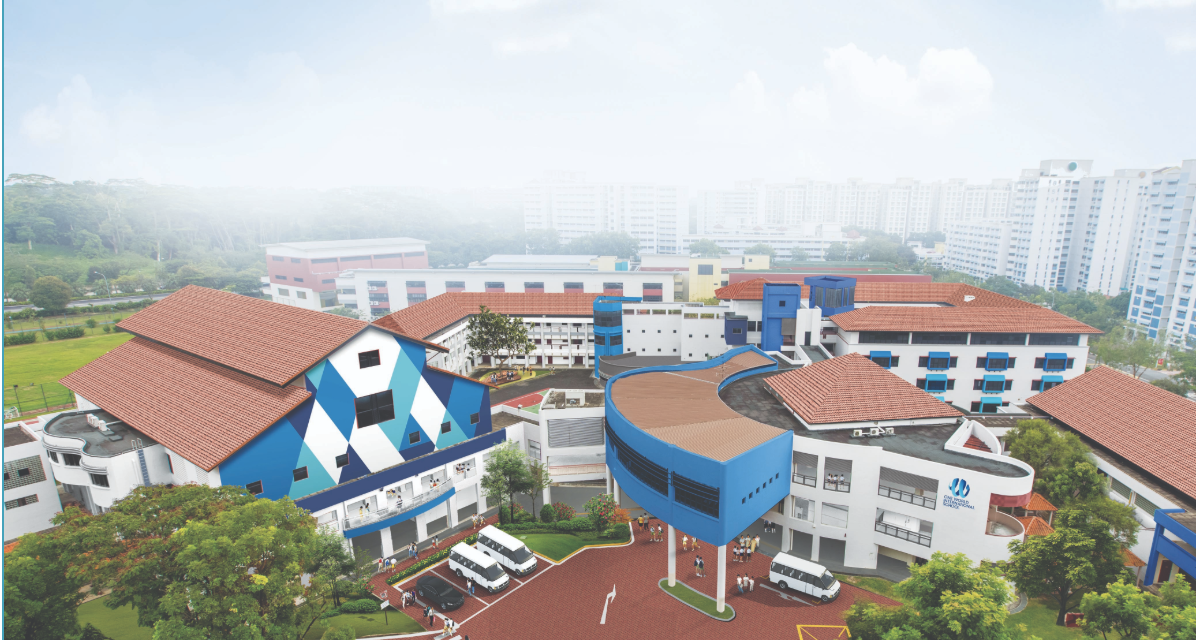 Spread out over 32,000 square meters, the OWIS Nanyang Campus incorporates indoor and outdoor learning centers. There is a nature kindergarten for students aged 3 to 6, and there are specific design themes which mimic the natural setting beyond the walls of the school building. The vast naturally-landscaped campus is echoed throughout the large and welcoming classrooms as well as the school building.
State-of-The-Art Upgrades
With immense and purposeful upgrades, OWIS has remodeled an existing school to serve the students of the Nanyang Campus. There are dedicated, "hands on" learning spaces for studies in entrepreneurship and performing arts, as well as visual arts, technology and robotics.
The new school accepts students in both - Primary and Secondary grades. There's outdoor space for physical fitness and always an opportunity to appreciate the gorgeous views of mother nature just outside the door. Smaller class sizes and student-to-teacher ratios nurture the holistic learning approach to which our Nanyang Campus subscribes.
Accommodating the Student Body
Our school has the capacity to house up to 1,200 students from pre-school through 12th grade. We limit our classrooms to only 24 students. Our international community of children embraces diversity so that your child will grow to appreciate a variety of backgrounds, cultures, and interests right from a very young age. We understand that children must feel secure in order to have the freedom to explore and learn. Our Nanyang Campus offers exactly that.
Technology is a major component of education today and we believe our school provides the technological tools necessary to promote a high-quality learning experience in this ever-changing world. While technology is and will remain a cornerstone of knowledge-building, an appreciation of the natural world is fostered on our campus as well. With every opportunity to learn, your child will be provided with several points of view and a plethora of venues in which to absorb them.
The Bricks and Mortar of the Nanyang Campus
The OWIS Nanyang Campus has 4 levels of classrooms and administrative space. Our unique design concept is something that fosters a truly well-rounded education so that your child is equipped with a desire to learn and put that learning into tangible action. Our personalized approach begins when you enter our building on Level 1. The Waiting Area showcases both a world map to demonstrate unity and a green wall that reflects nature and encourages the inquiry-based education in which we intrinsically believe.
Our Canteen is on Level 1 as well, and provides a well-appointed place for our students to nourish their bodies as well as their minds. Students can comfortably assemble for meals at our communal tables. There are classrooms located on the same level, off a series of corridors.
Level 2 classrooms and the multi-purpose hall are accessible from the lift. Each level in the OWIS Nanyang Campus is easy to navigate with wide corridors leading to classrooms and specialty areas. Level 3 is also a reflection of the values embraced at the OWIS Nanyang Campus. Earth tones in the classrooms and corridors speak to the students' need to stay rooted in their education as we supply the ground which can foster and nurture free-thought and acceptance as part of our culture. The canopy on Level 4 encourages growth in the safety of a shelter.
All of the classrooms are large, spacious, and comfortable for teachers as well as students. Specialty areas and creative spaces provide a learning environment specific to the subject, and ideal for promoting and supporting the subject matter at hand.
At the OWIS Nanyang campus, we have created a welcoming and inclusive environment that is filled with unique and distinct spaces
Each space, like each child, is unique yet coherent with our One World philosophy.
If you'd like to learn more, we invite you to get in touch today. In case of any questions, please click here.