At One World International School, we believe that students and teachers alike should be respectful of each other and the world that we live in. In some schools, discipline, etiquette and decorum have waned. In our institution, we believe that these are an absolutely essential part of education and something that our teachers nurture in students, as we prepare them to face the wider world.
Our belief in creating a positive culture within our Secondary School has led us to develop several initiatives to support and encourage kindness, empathy and good behaviour at OWIS. These include the Student Kindness Council, which promotes our culture of kindness, and the 'Secondary Six' ─ six qualities that students need to demonstrate in order to help them succeed academically and socially.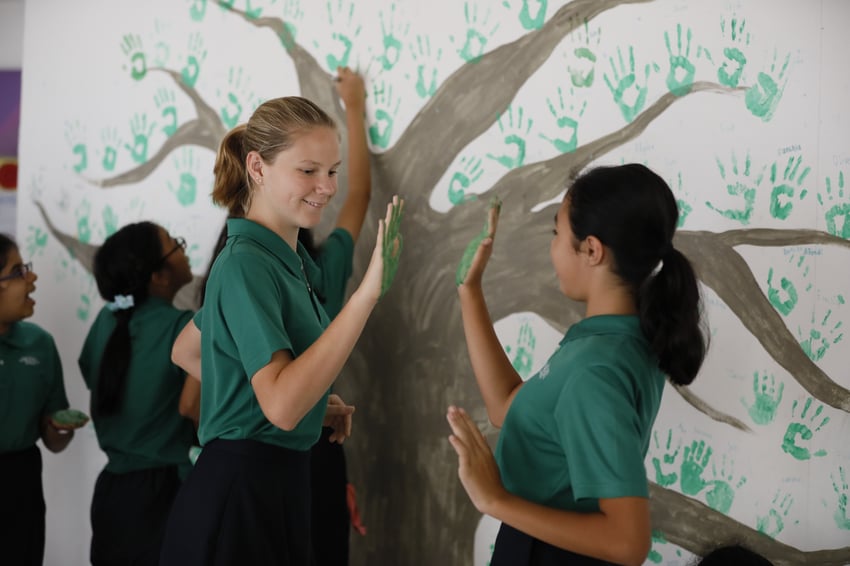 Promoting Kindness and Good Values
While academic success is the primary goal of all schools, at OWIS, it isn't the only ambition. We believe that school is also the beginning of a journey towards global understanding, empathy and positive interactions towards others. Kindness is key to that. And, just like any other skill or ability, it is instilled through persistent practice, guidance and a healthy dose of feedback.
To ensure that we instil these values in our students, we have transformed the traditional student council model and developed our Secondary Kindness Council.
The Kindness Council is comprised of elected Secondary students representing all classes and their role is to embody the values of kindness and promote this throughout the school.
The Secondary Six
A crucial part of our expectations in OWIS is for secondary students to progress academically and socially. The Secondary Six are traits that students need to possess, in their school life, to contribute towards the overall ambitions of OWIS.
Respect Yourself, Others and Your Environment
At OWIS, we believe that being respectful is demonstrated in no better way than by accepting others for who they are, recognising and celebrating the fact that each person has the right to be their own individual ─ meaning that students in our school are entitled to their own personalities and opinions.
One of our main aims for OWIS is to create a mutually respectful atmosphere and a natural harmony amongst all students within our walls, including students, teachers, members of staff and parents.
Take Active Responsibility For Your Learning
Students at OWIS are encouraged to take an active role in their own learning process. This promotes recognition that, while we, as educators, have a duty to provide knowledge, academic success is also dependent on students owning their learning and building on it.
A student demonstrates their taking responsibility for their education by actively taking actions towards achieving their educational goals ─ staying behind for extra mentorship, doing their homework to the highest standard and revising, for example.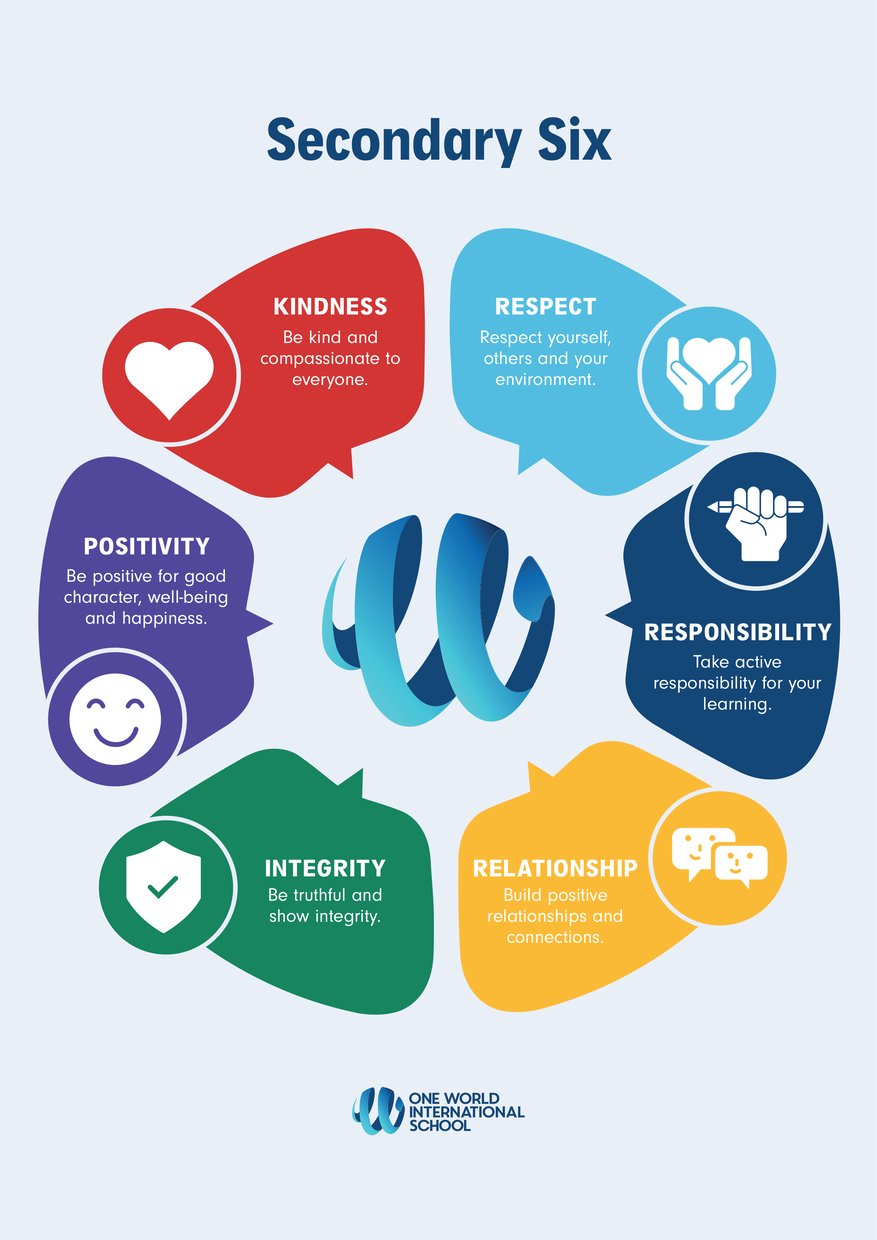 Build Positive Relationships and Connections
At OWIS we have created a setting that establishes a nurturing environment of trust, support and stability, by encouraging our students, staff and parents to foster positive social interactions.
Students participate in meaningful activities, service trips and have opportunities to connect with others in ways that may not always be possible in the traditional classroom. As part of service projects, students have opportunities to contribute their time and efforts towards charitable causes, the school and the community.
Be Truthful and Show Integrity
To have integrity, you must be both honest and have strong moral principles. At OWIS, we expect our students to demonstrate that they possess these values by avoiding activities or scenarios that would be deemed morally 'wrong'; by acting in a way that is 'right' and interacting with other students and faculty members in an ethical way, and by always being truthful.
Be Positive For Good Character, Well-being and Happiness
In a world that is sometimes dark, seeing positivity goes a long way to promoting happiness and that everything will be alright in the end. At OWIS, we show our students that being positive towards education has benefits.
Instilling positivity in our students allows us to blend academic learning with character, well-being and happiness through balanced choices and active service to others in the community.
Be Kind and Compassionate to Everyone
Kindness is the core driving force behind all that we do and believe at OWIS. Being genuinely kind and compassionate to the people around us involves action, not just thoughts or the willingness to be kind. More often than not, people define 'kindness' as merely feeling sympathy for those in need of our compassion. At OWIS, we have redefined compassion, and our students are taught that it is akin to getting involved, investing time in others and finding ways to show empathy and concern for others.
The Secondary Six underpins the values that we expect from our Secondary students and it successfully promotes a culture of positivity and happiness among our students. At OWIS, we are incredibly passionate about the power of kindness, the importance of responsibility, and its inclusion in the education process. By instilling and promoting these values in our students, we are preparing them for life as empathetic, tolerant and internationally-minded citizens.
To learn more about our secondary school curriculum and student life, visit us today.