At OWIS, we offer curricula specific to the early years, primary school, secondary school and high school. Students enrolled in our secondary school programme will follow a curriculum that culminates in the IGCSE examinations at Grades 9 and 10, one of the most popular secondary school curricula offered in Singapore and throughout the world. Globally, there are more than 70 subjects, including 30 languages, available through IGCSE. This curriculum is considered to be excellent preparation for both A Levels and IBDP subject courses.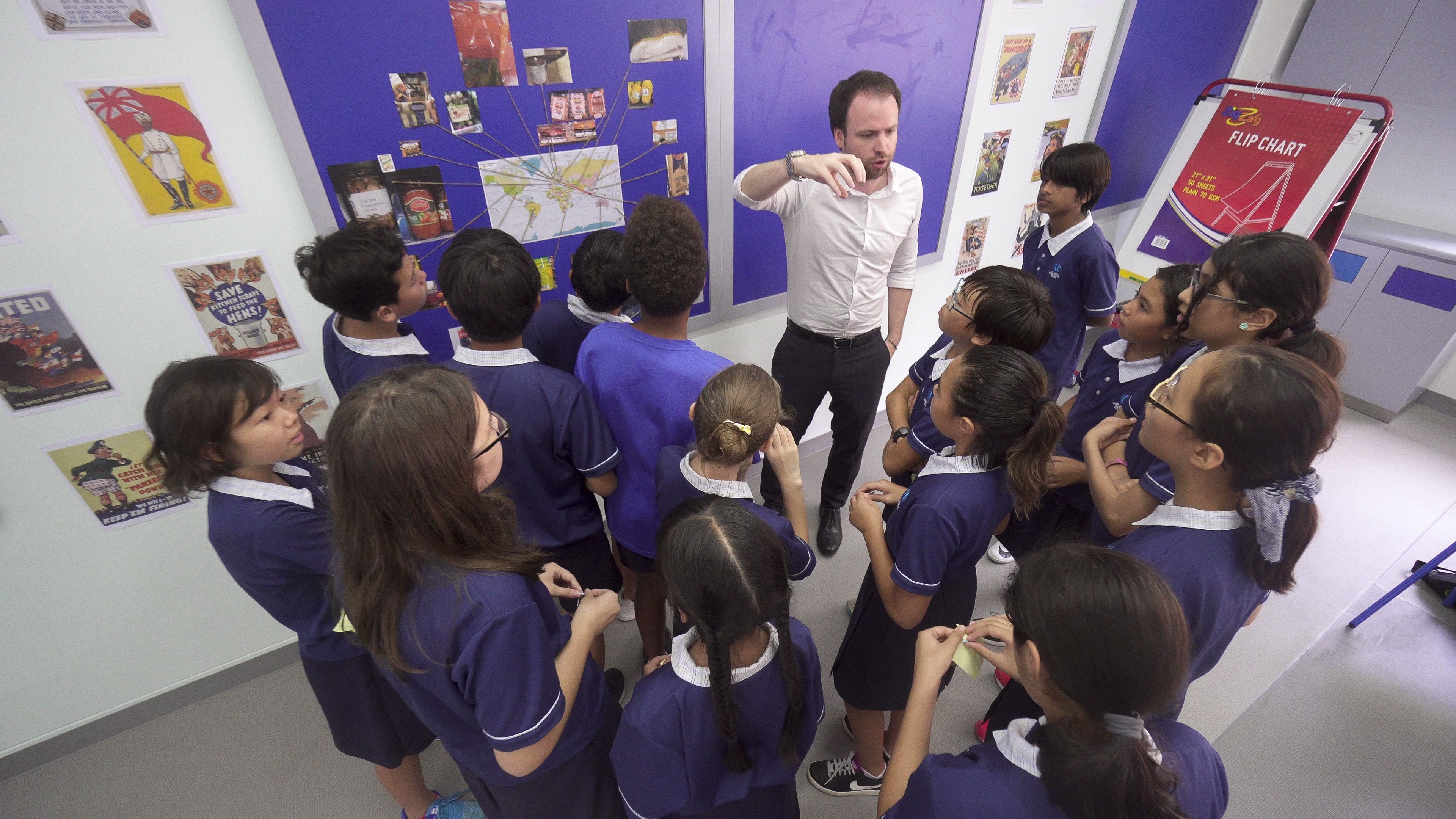 What is IGCSE?
The International General Certificate of Secondary Education, or IGCSE, is an English-based exam that was developed by the University of Cambridge. Many secondary students, including those who are enrolled in OWIS, will take the IGCSE prior to applying to university. At OWIS, we feel that the IGCSE curriculum programme is the best option for our international school, as it uniquely prepares students for this rigorous examination. Our IGCSE curriculum covers a variety of subjects, from traditional courses like mathematics, history and geography to modern subjects such as art, design and information, communication and technology.
Why IGCSE?
Originally based on the UK GCE O Level examinations, IGCSE content has been adapted to suit the needs of international students who are not studying in the UK. While the syllabi offer an international outlook, content retains a local relevance and has been carefully developed to avoid cultural bias. IGCSE's offer a wider range of subjects and encourages high academic standards through a practical approach to teaching and learning.
Subject content

Applying knowledge and understanding to new as well as unfamiliar situations

Intellectual inquiry

Flexibility and responsiveness to change

Working and communicating in English

Influencing outcomes

Cultural awareness
IGCSE is tailored to a multicultural, multilingual audience, which is ideal for our diverse student body at OWIS. Our students benefit from the freedom to choose subjects that are right for them with high-achieving students pushing themselves further through the extended curriculum.
IGCSE Pre-Requisites: How to Prepare Your Child for Success
IGCSE examination is a two-year programme starting at Grade 9. At OWIS, our students follow a modified UK curriculum from Grade 6 to Grade 8 which prepare them for the student specific IGCSE examinations at the end of Grade 10. While beneficial, it is not a prerequisite for students to have completed an international primary curricula prior to enrolling in the IGCSE curricula. Students are welcome to join at the Grade 9 level and then take the 2 year IGCSE examinations which complete at the end of Grade 10. At OWIS, we help prepare our students for success in IGCSEs by offering the Primary Years Programme in primary school and a modified UK curriculum in the middle years.
What Does IGCSE Teach My Child?
The IGCSE curriculum covers five main subject groups:
Creative and professional

English language and literature

Languages

Mathematics

Sciences

The Arts
Our IGCSE programme at OWIS is accredited by the Cambridge Assessment International Education Board and students are awarded Cambridge IGCSEs at the end of Grade 10. Depending on the course, assessments may include written, oral, and practical coursework. This broad assessment range allows students to demonstrate their learning even if English is not their first language. Students who successfully complete IGCSE are well prepared for IBDP and A Level coursework.