When it comes to academic performance, parents and administrators have long focused on curriculum design and teacher quality. While there's no denying that curriculum design and teacher quality are vitally important, this focus overlooks the importance of educational infrastructure towards academic achievement. Academic buildings must be intentionally designed to inspire, nurture, and educate children in ways that encourage and stimulate while providing a sense of belonging, so all students feel safe to explore and learn.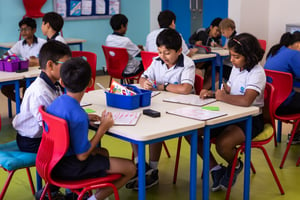 Academic infrastructure and classroom design have the power to improve or weaken the learning environment. Numerous studies underscore the importance of facility and infrastructure design on student behaviour, academic performance and teacher tenure. A recent study from the University of Salford in the UK, for example, found that classroom environment can affect a pupil's learning and academic progress by as much as 25%.
Trudie Lawrence from UK-based design firm Envoplan has closely studied classroom design and infrastructure. In an interview with the BBC, Lawrence says, "A successful classroom design needs to strike the balance between the teaching methods and learning styles that take place in class. Combining learning and teaching helps to create a space that facilitates both the student and the teacher and creates a much more fulfilling learning experience."
Tomorrow's Academic Infrastructure Today: 6 Elements of Effective Classroom Design

The strategic use of classroom infrastructure can create a conducive learning environment that impacts academic performance. In addition to addressing the previously discussed furniture layout, lighting, and acoustic concerns, future-proof academic infrastructure must include the following features:
Technology-infused. Technology must be fully integrated into the classroom for a seamless learning experience. The rise of personal device use in schools and even virtual learning opportunities changing the relationship between students, teachers, and technology. Devices must be integrated in a manner that is additive to the learning experience, rather than distractions.
Fully collaborative. Classroom design must allow for multiple configurations that support small group work and foster a sense of community and shared ownership in the class' academic success. When designing collaborative classrooms, spatial density must be carefully considered in relation to acoustics and collaborative work opportunities. Open-air classrooms that provide indoor/outdoor access help facilitate free thinking and collaboration between students, while providing important acoustic controls.
Special learning zones. A comprehensive education goes beyond academic basics to prepare students to be productive citizens and future leaders. As such, school design must include special "learning zones" dedicated to exploration and discovery.
Outdoor learning. Mother Nature can be a great teacher and our campus is intentionally designed to capitalize on these opportunities. Outdoor learning is integrated into daily academic life in a variety of ways including a tree observatory deck, a sensory garden, and a footpath winding through a miniature forest that guides students in their explorations.
Sustainable infrastructure. Whenever possible, infrastructure must be sustainable. The integration of green design elements into academic buildings can significantly reduce or eliminate the negative impact of buildings on the environment. For example, green design elements include utilising natural light, using natural air for cooling, and using green building materials.
Safety first. Academic infrastructure must encourage and stimulate learning while providing a sense of belonging so all students feel safe to explore– and all parents have peace of mind knowing that their child is secure. Advanced access control technology and CCTV cameras ensure that academic buildings are continually monitored, so teachers can focus on helping children learn.


Final Thoughts: How Intentional School Design Drives Academic Performance
An excellent education is intentional, right down to the academic building design and infrastructure that inspires future leaders. Design impacts a student's mood, alertness level and emotions with important cognitive and behavioural consequences. The right design can provide an inspiring, nurturing and secure learning environment for children to grow into responsible citizens and future leaders.