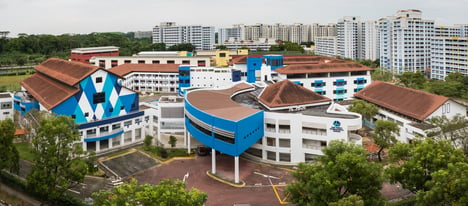 Excellence in education doesn't happen by accident. It takes a well-thought-out and comprehensive plan to meet the needs of all students in a holistic manner. To that end, the right learning environment is crucial. Children must be encouraged and nurtured in order to feel confident in their creativity and ability to learn.

At OWIS, we are very proud of our new and beautiful 'Nanyang Campus' and the approach we have taken to transcend the everyday classroom to create a space where children will thrive. From our green wall 'Waiting Area' to the canopy of colours that burst forth at the top-most level, we combine elements found in nature as we set your child on the path to make their mark in the world.
Design Influences Learning
It's widely known that elements in nature influence your mood and certain colours can contribute to a learning environment in all kinds of positive ways. Our waiting area boasts a beautiful green wall which brings nature inside, creating calm and warmth as you're welcomed to our school. Adjacent to the wall of nature is a colourful world map exhibiting unity and instilling acceptance. Sounds lovely, doesn't it? It truly is.
Level 1 echoes the colours of flowers. The yellow sunflower, green chrysanthemum, and orange orchid are all represented from the lift to the canteen. Floors are earthen colours of grey and brown to reflect the fertile ground in which your child's learning experience will blossom and grow. The floor tiles and pebble washed corridors lead to classrooms and specialty areas. The Administrative Offices carry forth the theme in brown, grey and green, with accents also inspired by the colours of flowers.
Level 2 is where you'll find acute inspiration drawn from rivers and streams as blues, grays and browns flow forth. The corridor floors are grey-based with different shades of blue cascading their way to-and-past classrooms. The lift, as well as the classrooms and our multi-purpose hall, reflect the aquatic theme of peaceful blue rivers and vinyl floors of earthen hue.
Level 3 is in a class of its own. The patterns and colours here reflect roots, as they secure themselves in fertile growing conditions. We believe the idea of rooting oneself in such a holistic learning environment provides the comfort and freedom of a strong educational foundation. With a stable foundation, your child will feel free to explore his/her creative side and learn without limits.
Level 4 provides a sheltering canopy which is repeated in the colours and patterns throughout this highest level. Leaves and fronds form an encompassing presence, without inhibiting growth and potential. As with all of the design throughout our Nanyang Campus, Level 4 fosters lifelong learning for all of our students.
Our design concept at OWIS is a fairly simple one. We built the Nanyang Campus as a reflection of the world around us; to inspire, nurture, and educate your child in ways that encourage and stimulate while providing a sense of belonging which allows your son or daughter to feel safe to explore. In the words of Nelson Mandela, "Education is the most powerful weapon which you can use to change the world." A quality education needs to plant roots in fertile ground in order to change the world for the better.
If you'd like to learn more, we invite you to get in touch today. In case of any questions, please click here.
Follow us for more updates and explore the difference!