The famed English Poet, William Wordsworth, once said "Let nature be your teacher". At OWIS Nanyang, we firmly believe in the lessons introduced by the natural world around us. Our campus boasts 32,000 square meters, including several outdoor Nature Classrooms. These classrooms are designed in such a way as to let our students' unbridled curiosity lead the way to discovery and knowledge.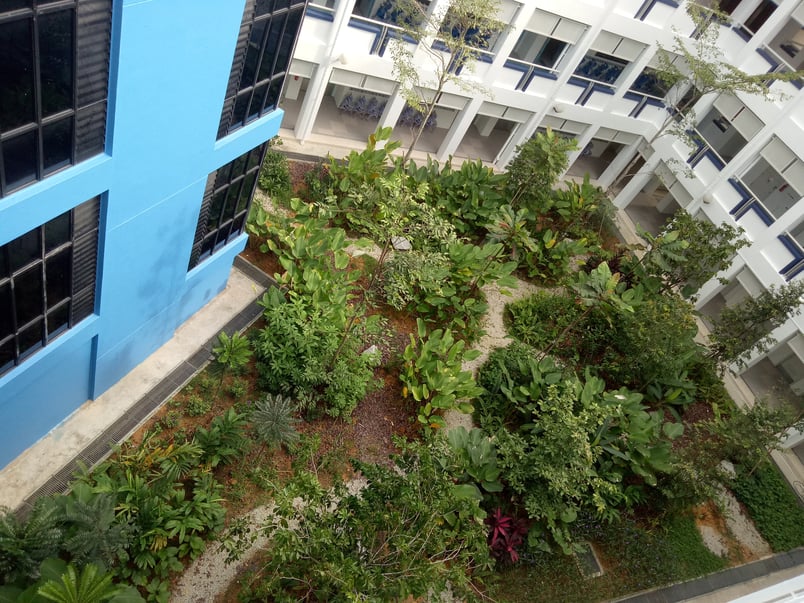 Miniature Forest
The miniature forest at OWIS Nanyang is a beautiful display of native Rainforest plants. This "Living Library" is full of knowledge at the cost of a look. When primary students take time to experience the miniature forest and all that it offers, they begin to recognise the value of the natural world in their lives. This recognition turns to appreciation, which in turn forges a bond and a sense of stewardship that underscores the need to protect the environment from harm, and preserve it for future generations.
There is a footpath that wends its way through the Miniature Forest, guiding the students in their exploration. As they wind their way among the native plants, curiosity is piqued and a keen interest develops. Our Miniature Forest is truly a remarkable experience for students in our primary block.
Hands-On Farm
Is there much in the world that is quite as satisfying as growing one's own food? Watching nature at her very best, as she takes the smallest of seeds and yields a healthy harvest for the gardener makes OWIS Nanyang's Hands-on Farm yet another exciting aspect of our Early Childhood Nature Classroom.
Our farm allows students to not only play in the dirt but observe the evolution of plant life from seed to harvest. Our verdant and lush green gardens deepen the understanding of science as well as food and nutrition. Our students are able to take proud ownership and appreciate the fruits of their labour. A mighty lesson indeed.
Berms and Sandpit
Nature is about so much more than simply observation. Nature concerns our very lives at its core. It also provides plenty of opportunity to play and have fun. Our Berms and Sandpit provide areas to climb, slide, tumble and delight. Your child's sensory nerves will be pampered through the different textures, colours, and shapes of the green grass, sand and hills. A world of new ideas and experiences can be found in the Berms and Sandpit.
Sensory Garden
A natural stone trail meanders through and between fragrant flower plantings. Bright coloured flowers of many different varieties are bursting forth, inviting creatures such as butterflies, hummingbirds and the like to stop and investigate. Our Early Childhood students enjoy the Sensory Garden on campus nearly as much as the butterflies and hummingbirds. Children experience the Sensory Garden with nearly all of their senses, the vibrant colors, sounds of nature, and delicate feel and fragrance of the flowers and related elements of the Garden.
Tree Observatory Deck
Trees support many different living things, including human beings. Our source of clean air and eye-pleasing grandeur, trees offer a living history, and teach us sage lessons. At OWIS Nanyang, we encourage Secondary Block students to stimulate their natural curiosity by providing the opportunity for a close-up observation of our feature tree.
With a multi-tiered deck surrounding our feature tree, students are able to enjoy the peaceful shade and serene calm that the tree provides, interest themselves in many of the supported life forms (insects, and the like) and simply take in the beauty of this lovely arcade. The tree observatory deck is partially circled by shrubbery, which mirrors the beauty and wonder of the feature tree as it significantly enhances the natural setting.
The future of our planet and our species are intrinsically tied together. At OWIS, our holistic approach helps guide our students to success in life and an appreciation for the wonders held in the natural world. It is our belief that our students will build on this appreciation to foster their curiosity, become lifelong learners, and good stewards of the environment.