One World International School takes education very seriously. In order to grow into successful adults and significant citizens of the world, it is necessary to build a strong foundation that includes an open mind, appreciation of the beauty found in nature and one another, and a lifelong love of learning. It's not easy, but it's not impossible either.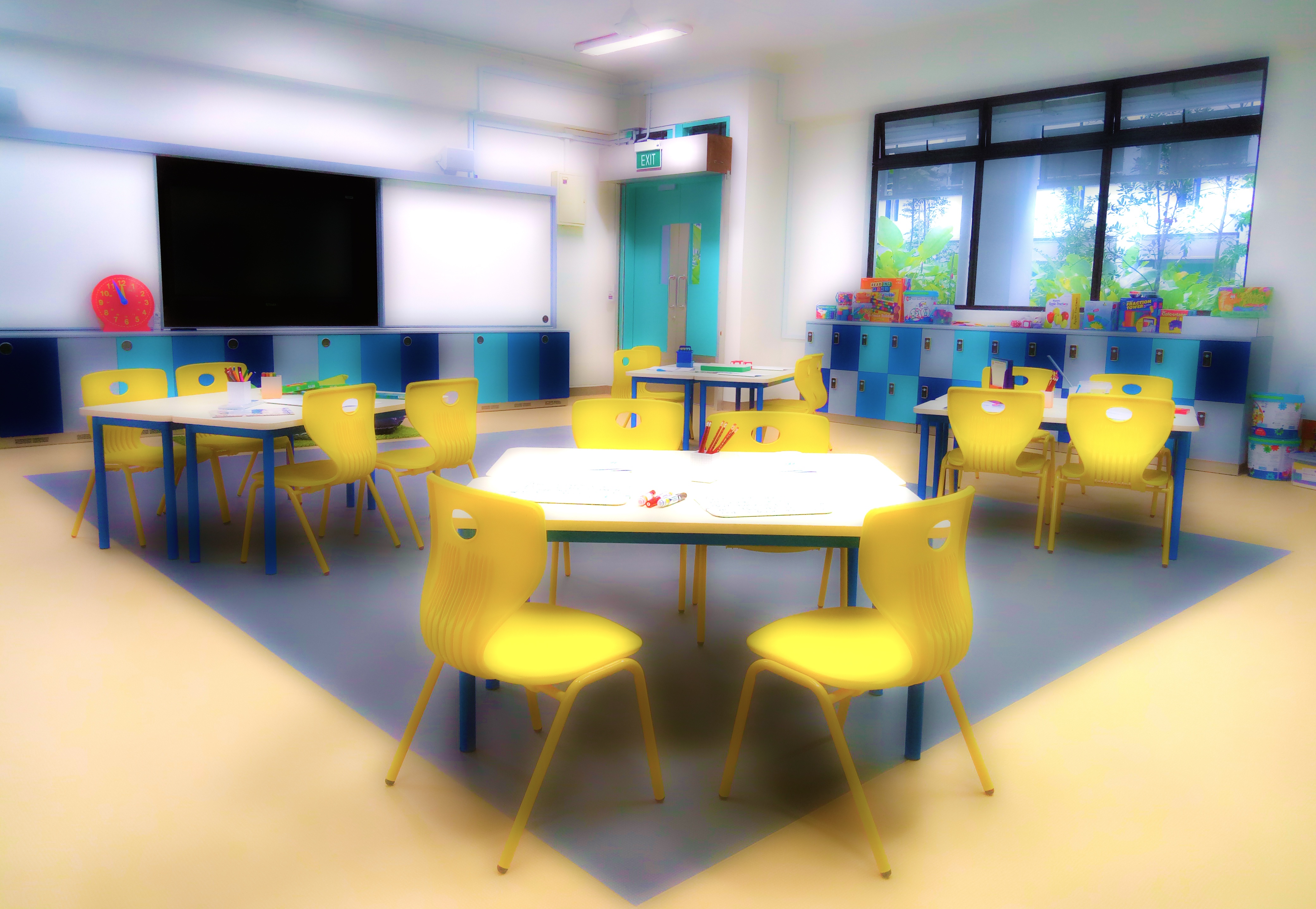 This foundation begins at home, but is most solidly reinforced in the classroom. At OWIS, we believe the classroom must be an atmosphere that is environmentally conducive to the freedom of expression, thought and curiosity. Each student must feel their desire to explore is fundamentally appreciated and encouraged.
The comfort and serenity which is promoted in the physical environment, along with the tools that students use to further pique and satisfy their curiosity go hand-in-hand with the curriculum. Those teachers who enforce the lessons do so with the same appreciation of each student's natural curiosity. This is why we believe OWIS Nanyang is the "destination of choice" for your child's education.
Here are some factual details about our classroom environment.
Space Utilisation and Flow
What does the term "student-centered classroom" really mean?
Our classroom is designed with the student in mind. Safety and security are always at the top of the list, however there are many other ways we promote a student-centered classroom.
Collaborative learning is a successful approach to promoting the core mission of OWIS. Children work together to solve problems, complete tasks and create, all the while forging bonds of friendship while learning. Each classroom provides learning corners for successful collaborative learning.
In OWIS classrooms, you will find magnetic pin boards, natural lighting, and air conditioning to promote a comfortable environment where students can thrive. Our larger glass windows invite a view of nature to promote this stress-free atmosphere. There's plenty of storage available with cubby-holes for students, so the classroom is free of clutter and debris.
Colours that Inspire, Not Distract
Our colour scheme at OWIS Nanyang is something that we are very proud of. Children are naturally curious about the world around them and those hues which are utilised time and again throughout the campus are taken from the natural world outside the door. Soothing greens and blues found in grass, flowers and rivers, sunny, happy yellow-the colour of sunflowers, and earth tones which mimic the rooting of knowledge-seekers in fertile ground.
Teaching and Incorporating Technology
Embracing the world as one is very much the theme at OWIS Nanyang. Technology brings us closer to one another and provides us a glimpse of other cultures like never before. Starting students out with the tech-appropriate tools is essential to the skills they must develop for a successful future.
OWIS understands the need to promote and encourage the use of new technology in the classroom. That's why our classrooms are equipped with TV's (instead of the more common projectors), Apple TV integrations, speaker systems, and iPads.
Classroom Size Makes a Difference
Our classrooms are quite physically large, however OWIS Nanyang limits the size of our student population to 24 students per classroom. We believe this allows the children to interact with one another and their instructors with ease. Questions and concerns are taken up in proper time, encouraging the student to speak out and be curious, without judgement. Relationships with other students are reinforced, and the larger classrooms allow freedom to move about when appropriate.
Results You Can Trust
Although there's complete freedom for students to think, question, explore and learn at OWIS, each lesson has an objective. These objectives are clearly defined and the curriculum is centered around achieving those objectives. Students discover an uncanny excitement about learning, as they advance. Our approach evidently leads to better learning outcomes.