In the long-standing tradition of the world's best schools, we recently restructured our houses at One World International School (OWIS). Created to support our kindness initiative and emphasising oneness with the world, our four houses represent the diversity that OWIS offers.
The house system in schools and why we have it?
To anyone who is not a Harry Potter fan, belonging to a 'house' within a school can sound peculiar. A house, though, can become so much a part of school life that house school alumni remember the name, colour, motto and standing of their house.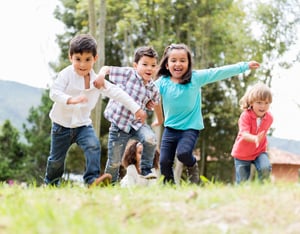 Houses are a long-standing tradition in schools throughout the world. Traditionally, houses functioned as small communities within the larger life of the school. Today, the house system in schools helps develop teamwork, trust, leadership skills and healthy competition.
The four-house system at OWIS.
Our school is one community, but sometimes, it splits into four parts. Our four houses include the Willow Tree, the Acacia Tree, the Wisteria Tree and the Flame Tree.
Willow | Balanced, Open Minded and Reflective
Our Willow Tree house draws its name from a deciduous, green tree popular in Europe and North America. Willows symbolise nature and life along with balance, learning, growth and harmony.
Acacia | Principled, Tolerance and Commitment
The yellow Acacia Tree house bears the name of graceful trees native to tropical and subtropical regions of the world, particularly Australia where they are called wattles. Acacias are used to make incense and may have been the "burning bush" of the bible.
Wisteria | Caring, Curiosity and Creativity
The purple Wisteria tree lends its name to our third house. Wisteria has flourished in China, Korea and Japan for over 2,000 years where art, history, feng shui and Buddhism have awarded it deep symbolism for good luck, especially for the start of new ventures.
Flame | Knowledgeable, Risk Taker and Confidence
Our fourth house takes the name of the African Flame Tree, famous for its abundance of red tulip-like flowers and medicinal properties. The Flame Tree is also known as the fountain tree because of the water sealed in the flower buds that squirt out like a fountain when burst.
How our houses work?
These four houses compete against each other to become the year's grand champion. Students amass house points through hard work, excellent behaviour and extra effort. Individuals do not amass house points for themselves; instead, these points go to the student's house, creating a bond of respect among the students in each house. At key moments during the academic year, we announce the total points in assemblies to great applause from our students.
Our secondary school students can apply to be House Captains, an honoured leadership position. Successful candidates plan and run the house competitions. The House Captain's role also encompasses: organising house meetings, motivating members of the house and leading by example. Students who serve as House Captains at OWIS accrue leadership skills that last them a lifetime.