At One World International School, learning comes alive for students as they discover their passions and interests through different avenues of learning, for example, taking on a role similar to junior scientists, formulating and testing hypotheses. Through the Inquiry Cycle, they explore new knowledge and ideas in authentic contexts; developing critical thinking and problem-solving skills to help them become successful for a future unknown.
What is the Inquiry Cycle?
The Inquiry Cycle encourages students to formulate questions and explore possible solutions. Although the process is similar to scientific inquiry, it can be applied to a variety of other subjects, too. Inquiry involves both inductive and deductive reasoning and consists of several phases. Terminology describing the phases and the order in which they are applied may vary depending on the topic under investigation and the approach the teacher is using. However, most inquiry cycles consist of the following components:
Orientation introduces the learning topic and may be initiated by teachers, students or even situations that stimulate learners' interests. At OWIS, we call this "tuning in."


Conceptualisation begins with generating research queries and hypotheses and allows students to understand related concepts. Students also begin gathering information. We refer to this as "finding out".


During investigation, or "sorting out", students let their curiosity direct them toward exploration, experimentation and data-interpretation.


Groups of students extend and personalise their learning during the "going further" stage.


During discussion and reflection, students share what they've learned, and evaluate their inquiry process. Sometimes, they consider new questions to pursue.
The point of inquiry cycles is to empower students to become active participants who take responsibility for their learning.
Inquiry Cycles in Action
You may be wondering what an inquiry cycle looks like in the classroom. While no two inquiry cycles are exactly the same, here is a general idea of what we do at OWIS. To begin, students may suggest a research question. Sometimes, the teacher poses one based on the students' interests to stimulate discussion.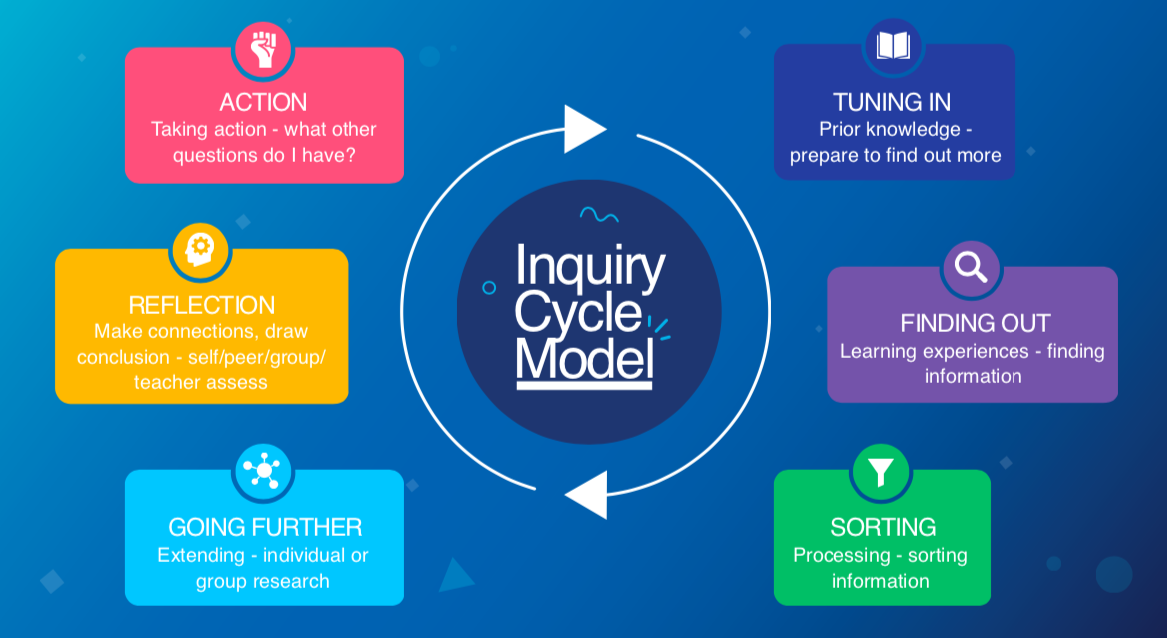 After this "tuning in" phase, the teacher acts as a facilitator, asking challenging questions that guide students to delve more deeply into the topic and come up with a specific problem to be solved or query to be answered (finding out). Students also begin to conduct research.
In the next stage, "sorting out", students analyse the information they're gathering. Much of their learning occurs in a collaborative environment, rather than having students work individually. In the "going further" and "reflection" phases, classmates have multiple opportunities to share ideas and communicate what they're learning. At the conclusion of their research, learners present their findings and the process by which they arrived at them - "taking action". At OWIS, students do this through class presentations and inquiry exhibitions, which we invite parents to attend.
Benefits of Inquiry Cycles
Research shows that students have better academic outcomes when they learn through inquiry, rather than traditional methods such as memorisation. Students develop a deeper understanding of the material than they would by simply listening to a lecture or reading a textbook.
Furthermore, inquiry cycles provide students with an enhanced sense of accountability as they contribute as members of a group. Additionally, students' access to technology can optimise the inquiry process, as learners use Web-based resources to fine-tune their hypotheses and locate relevant information.
Cycles of Inquiry at OWIS
At OWIS, Early childhood and Primary students gain new knowledge through units of inquiry, a crucial component of our IB programme. Cycles of inquiry spark students' natural curiosity and set the stage for lifelong learning.
If you'd like to learn more about how your child can discover new knowledge through cycles of inquiry, contact us or schedule a school tour and come visit us. We look forward to giving you a behind-the-scenes look at how we equip students for life-long learning.