The campus grounds surrounding OWIS Nanyang offer a wealth of learning opportunities. This innovative outside-the-classroom method of teaching, while not exactly new, fits with all that we believe in, at One World International School. Taking advantage of the native flora of Singapore seems essential in forging an appreciation of the world around us.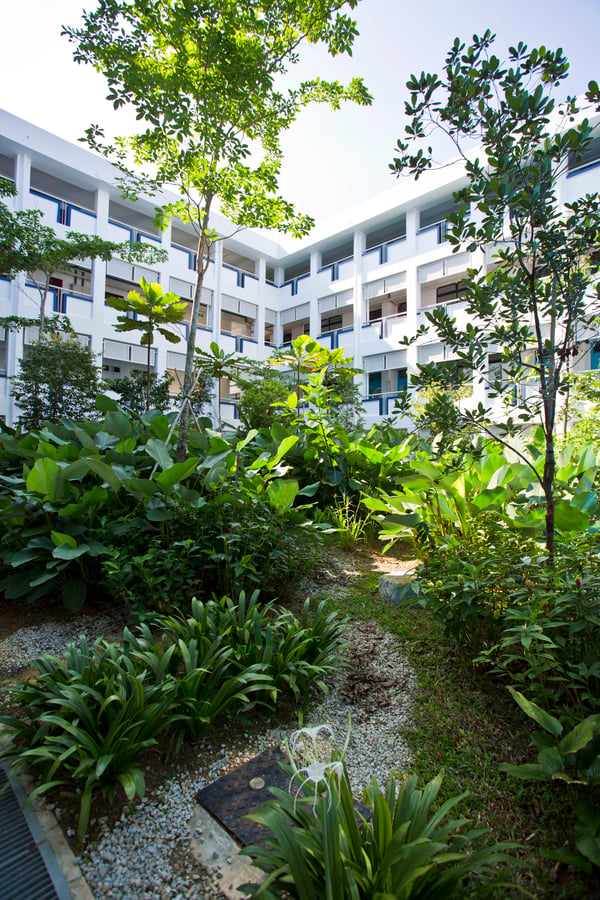 These nature classrooms are the ideal venues for learning and playing. Especially in the
Early Childhood years
, where it is so important that learning and play be interwoven, as the students progress
to
the primary years, outdoor learning has already been established and must be fostered. Secondary students are eager to take their rightful place as protectors of the environment. What better way to encourage them than incorporating outdoor activity via our nature Classrooms?
There are many benefits to out of the classroom learning for teachers and students at OWIS Nanyang. Our 32,000 square meters campus has grounds that extend the existing learning space and inspire the natural curiosity that each student possesses. Even with our intimate student numbers (a maximum of 24 per classroom), enthusiasm should, as they say, "hit the roof, once students set foot in the "wide open" spaces of our campus".
Benefits of the Nature Classroom
Hands-On Learning: The most effective method of learning is by doing. When OWIS students of all levels take part in experiential learning outdoors they are simply engaged at a deeper level. From our Early Childhood students and their experiences with the planting garden, to our primary school's enjoyment of all the wonder that the Miniature Forest holds, to our secondary students and the opportunity to take in the beauty and comforting presence of the Tree Deck, the natural world holds fascination for all.


Fun Gathering Place: There's no doubt that our students have fun in our outdoor classrooms. For those in our Early Childhood programme, for whom play is the portal to lifelong learning, to our primary students, as well as our secondary students, our nature classrooms provide the ideal gathering places and backdrop for opportunities to connect and forge bonds throughout our diverse student population.


Nature Eases Stress: At One World International School, you will find nature as an essential theme throughout. We incorporate nature's colours and design in our indoor as well as outdoor classrooms. The peaceful and serene atmosphere promoted both inside and outside aims to ease many of the everyday stresses.


Nature's Lessons are Endless: There is always something to be learned in our nature classrooms. From observing life forms supported by our Miniature Forest, students learn about the importance of the ecosystem. The Sensory Garden can teach many lessons, from the life cycle of plants and flowers to how certain types of creatures depend on these elements for their very lives. The Tree Deck affords students a place to pause and reflect, necessary to succeed in learning and in life.
Not all students are "inside learners" and the nature classrooms allow those students to engage a bit of sensory relaxation. Simply put, the outdoor environment supports a host of learning opportunities for students of all levels. The beautiful and abundant world outside our doors holds many lessons, the most fundamental being to "Never Stop Learning".